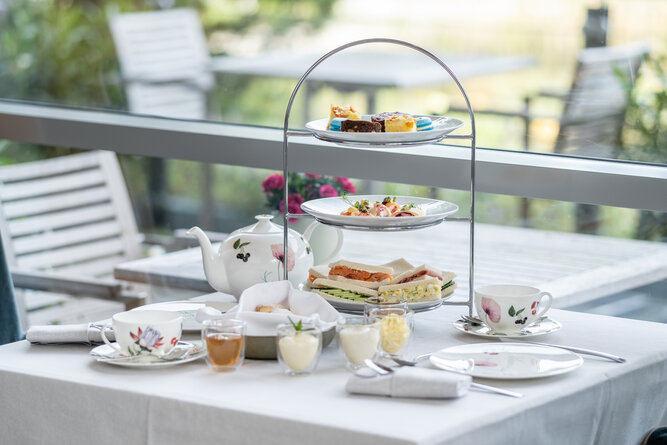 Afternoon Tea (Winter Saison)
Inside the suite / villa
Enjoy a very special traditional afternoon tea by the fireside or out on the patio next to the lily pond. Salmon, ham, cucumber, and egg and cress sandwiches are just some of the savoury delights on offer. Biscuits and cake, freshly-baked currant scones with cream cheese, lemon curd, honey and - of course - homemade jams and marmalade, all enhanced by our wonderful selection of superior teas.
Fortnum & Mason:
Black tea: Smokey Earl Grey, Fortmason-Darjeeling, Royal Blend, Ceylon Orange Pekoe, Afternoon Blend, Queen Ann Assam & Ceylon
Green tea: Green Jasmin, Green Maroccan Mint, Green Sencha
BIOTEAQUE:
BIO herbal blends with: strawberry-mint, peppermint, chamomile flowers, elderberry matcha, Rooibos Lemone-Vanilla
BIO fruit tea: forest fruit raspberry, cherry-cinammon
Bookable from September 25th to April 30th.