Just delicious
Restaurant AQARIUM, Lobby Bar, SPA Lounge
Award-winning cuisine at the lily pond
The award-winning Aqarium restaurant
À la carte throughout your entire day. Enjoy private dining in your suite or a sophisticated meal in the restaurant. There are no mealtime schedules here. You dine whenever the mood takes you.
The culinary heart of Geinberg5 is our award-winning AQARIUM restaurant (winner of 2 toques & 3 forks).
Check out the contents of our menus and prepare to be enchanted!
Our Chef de Cuisine and his kitchen staff infuse magic into everything from down-to-earth Innviertel fayre to the finest haute cuisine dishes – as they always do.
Inspire your senses with exquisite à la carte specialities or multi-course gourmet meals. Each meal deserves its own perfect wine accompaniment from our sommelier's supreme selection of domestic and foreign wines.
2
Toques
13,5 Points
Gault & Millau

3
Forks
Just the two of us. Private Dining
In your suite or on your pond-side pier
A pleasant, easy-going atmosphere, complete intimacy and lovingly-prepared cuisine are key ingredients for a wonderfully romantic stay in a Private Spa villa or suite.
Whatever the time of day, guests can enjoy the culinary offerings provided by our award-winning AQARIUM restaurant – without ever having to set foot outside the door. A Private Butler service ensures everything comes to you; wherever your favourite spot in the suite happens to be.
After Dinner Drink
Lobby Bar
The lobby bar serves speciality aperitifs – now, after dinner, and as a wonderfully relaxing way of finishing off an evening.
Purchase here from our fine selection of cigars.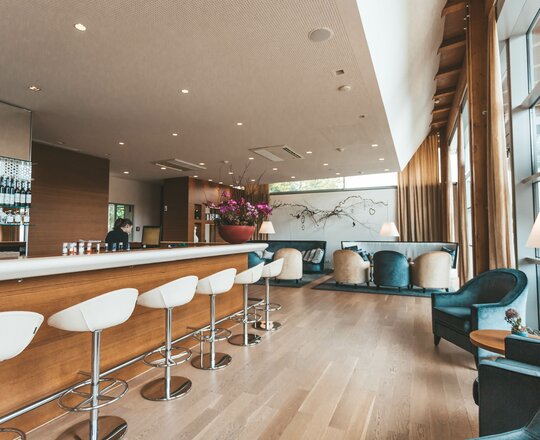 Private Spa cuisine
SPA Bar
Enjoy sophisticated delicatessen dishes from the award-winning AQARIUM restaurant in the Spa Bar of the Private Spa facility, accompanied by wise choices made from our comprehensive list of beverages.
The comfortable and stylish indoor and outdoor furniture of the Spa Bar promises hours of sublime comfort. The sun patio offers beautiful vistas of the Innviertel region's magnificent rolling hills.
We also attend to you personally at your lounger in the Private Spa.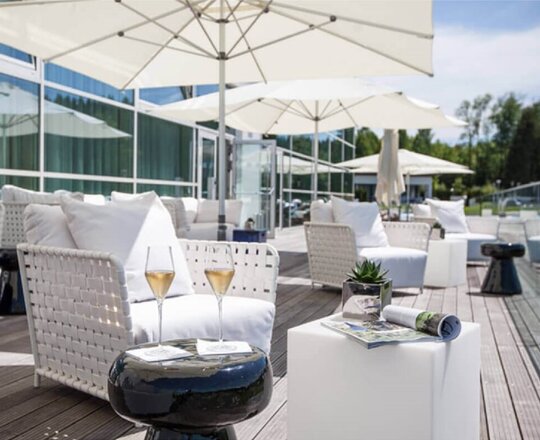 AMA Genussregion
Regional, seasonal and sustainable
Our Chef de Cuisine uses high-quality products for all his creations – preferably coming from the region and varied for each season.
Agrarmarkt Marketing Austria GmbH has audited all our gastronomic areas and determined that they meet the requirements of quality and origin for gastronomy. As a result we are proud to be part of AMA Genussregion!