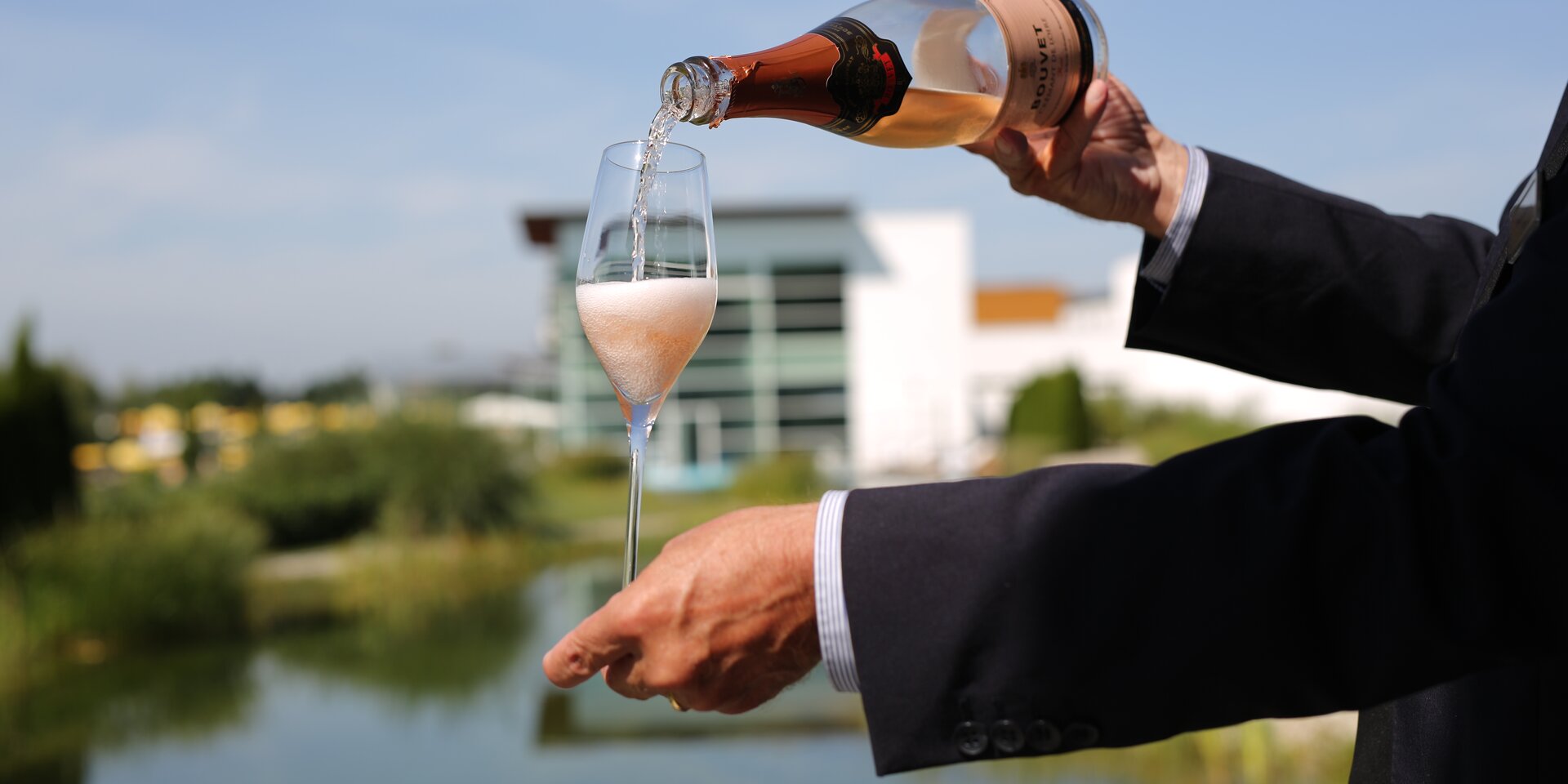 Just Service
A World filled with extras
Your Private Butler
Private Butler Service
Come in and let go! You begin to float as soon as you arrive at Geinberg5. Hand over the car key to your private butler. While you are welcomed at check-in with a glass of Crémant, your butler parks the car, takes the luggage from the boot, and drives you silently to the villa in an E-Mercedes.
The private butler is there to look after your every need, around the clock – to serve aperitifs on the patio, multi-course gourmet fireside meals in the suite, and sumptuous breakfasts in the villa. Our unique butler service enables you to make all your arrangements in seconds via an iPad or by phone.
Discretion, exclusivity and professionalism are the essentials.
Limousine transfer service
A smooth journey
Would you like to be driven to the Salzburg Festival? …arrange a transfer from the airport or train station to Geinberg5, plan a surprise trip for your dearest? Or do you have other special requests? You can rely on us to deliver! Our partners provide limousines to ensure you enjoy a round-the-clock service with genuine and sophisticated charm. We offer an exclusive range of Mercedes and Rolls Royce cars.
Barrier-free luxury
Your services
Geinberg5 ensures guests with very specific requirements or restricted mobility enjoy a seamlessly comfortable and convenient barrier-free stay, from a covered arrival area and access to reception, to easy entry to the lobby bar, restaurant and Private Spa Suite. The barrier-free suites have no curbs or borders, and are situated on the ground floor. Assistance dogs are welcome.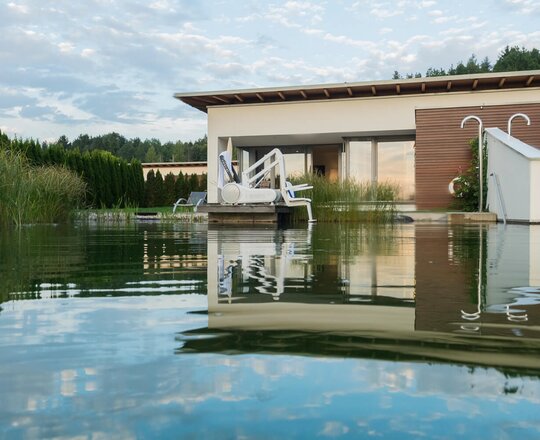 Gabana is an agency responsible for barrier-free access and has certified our suites. Please find the report here.
If you require a suite or villa with barrier-free access, please let us know when you book to enable us to provide you with the right accommodation for your needs.
More information about barrier-free luxury
Relax together as a family
Family holiday in Geinberg5
Our Private Spa Villas are perfect places for a vacation with children – guaranteeing 100 % relaxation.
We customise our services for your offspring to suit your requests and requirements.
Would you like a cozy dinner in the award-winning AQARIUM restaurant while the little ones enjoy a delicious evening meal in the suite? In Geinberg5 you and your needs are in the foreground. We take care of your carefree stay.
Real relaxation for parents
Luxury holidays with children
The baby set-up at Geinberg5 features an infant bed, children's bed linen, a nappy-changing table and a bottle-warmer. Please let us know if you need the package when you book.
Would you like someone to look after your child or children while you are out? We would be happy to arrange a babysitter for you. More information is available at the reception desk or from your butler at the accommodation.
Even more magic moments
Bookable add-ons
On arrival, surprise your accompaniment with a bouquet of roses or a personal greeting using our imaginative message-in-a-bottle service. We have so many ideas – and yours is the joy of choosing. Make a gift of some very special magical moments together.
A gift of pure joie de vivre.
Geinberg5 vouchers
Our exclusive vouchers are gifts of joy, unforgettable memories and exquisite luxury - be it a candlelit dinner at the AQARIUM restaurant, an infinitely pleasurable stay in a Private Spa Villa or fixed-sum voucher for services – every Geinberg5 voucher is a promise of pleasure.
Buy voucher