Just Private
Geinberg5
Welcome

to
Geinberg5
About Geinberg5 Private SPA Villas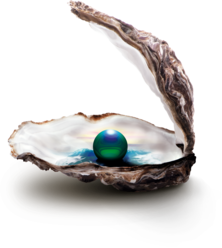 true to our credo:
JUST PRIVATE
Alone – together – at last. Just the two of us. This is your chance to enjoy an unforgettable time with each other in a very special place, secluded from the world – a place that touches the heart and the soul, and provides every imaginable form of luxury – without ever having to step beyond the doorway. Here, everyday life stays outside, and our guests feel what life is truly about.
Embedded in the rolling hillside of the Innviertel area in Upper Austria, Geinberg5 is an exclusive spa resort that tailors every form of relaxation to each individual. Far away from everyday pressures, but with every imaginable luxury, our guests enjoy absolute discretion in their Private Spa Suites – right next to the naturalised bathing pond. Geinberg5 is no ordinary Spa resort. Guests have their own spa areas, à la carte cuisine, a Private Butler Service and Turkish baths with hammam and can celebrate their own personal spa ritual
Every imaginable luxury

in our Private Spa Suites
Private Spa Villas
21 Private Spa Suites have been arranged around two specially-crafted naturalised bathing ponds. The sizes of the suites range from 114 m² – 300 m². They are designed to accommodate 2 to 6 people, and they all have plenty in common, including their own en-suite spa area with a free-standing bathtub, a Finnish sauna, steam bath, outdoor hot tub filled with 36° C thermal water – and an open fire. Even private massages and treatments can be enjoyed in the suite, so you may never need to cross the doorstep.
from € 315,00
per person
and night
Private Spa Suite
Exclusive
from € 365,00
per person
and night
from € 1.680,00
per night
No ordinary

luxury holiday
What makes Geinberg5 what it is?
Feel the exclusivity as soon as you arrive when your private butler welcomes you. Enjoy this during your entire stay in your Private Spa Suite and dream about your special vacation for a long time to come.
Private Butler Service
Light up your open fire, enjoy a bottle of champagne in the aerated hot tub, have the chauffeur drive you to the Geinberg⁵ restaurant – or relax in your Private Spa. Let the butler take care of the details! All you have to do is take it easy and savour your holiday.
Geinberg⁵ Restaurant
The award-winning Geinberg⁵ restaurant is the central culinary pillar of Geinberg5. Indulge in wonderful culinary delights on a spacious patio at the edge of the lily pond, and allow our sommelier to choose the perfect wine accompaniment.
Wellness & Spa
There are no limits to your Wellness and Spa relaxation at Geinberg⁵. As well as the en-suite spa facilities, there is also the exclusive Private Spa area, an Oriental World Turkish bath, a hammam amenity, and the Spa Resort Geinberg.
Wellness & Spa
Since opening in 2012, Geinberg 5 has been honored annually with national and international awards. Our unique concept is also recognized on the European stage. Our motto is JUST PRIVATE, which means that privacy, calm and relaxation are very important.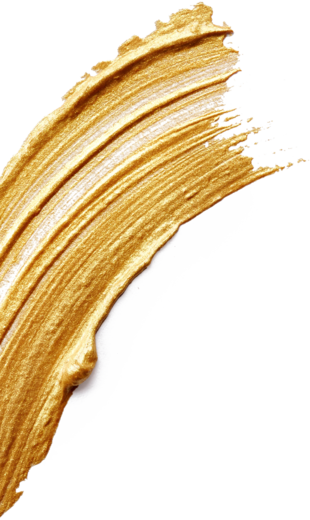 World Spa Award
Seven Stars Lifestyle Award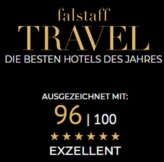 Falstaff Travel
Falstaff Hotel Guide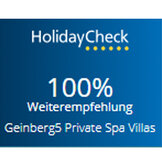 Holidaycheck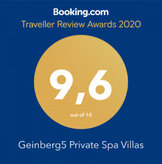 Booking.com Review Awards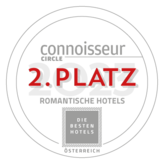 Connoisseur Circle
A gift

of pure joie de vivre
Geinberg5 vouchers
Our exclusive vouchers are gifts of joy, unforgettable memories and exquisite luxury - be it a candlelit dinner at the Geinberg5 restaurant, an infinitely pleasurable stay in a Private Spa Villa or fixed-sum voucher for services – every Geinberg5 voucher is a promise of pleasure.
Buy voucher
Region &
activities
Holidays in the Innviertel region
Geinberg5 Private Spa Villas are situated in the peaceful village of Geinberg, among the rolling hills of the Innviertel countryside. There is plenty to enjoy in the region, from relaxation and verdant nature to culture and sport.